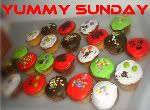 I know this is a late post and have been absent for couple weeks now on
Yummy Sunday
.
I have not been feeling well these past few days due to my risky pregnancy condition. Truly I am sorry for missing this yummy meme.
Hubby came home last night from Solano a far town in Nueva Viscaya for a site visit at one of the SM on-going structured mall. He brought home our favorite buko pie. When eaten with vanilla ice cream it is superb. I love that Buko pie as it is made with cream so obviously it's creamy. So yummy!!!!
Creamy buko pie with Vanilla Ice cream..
Visit
Perfectly Blended
for more Yummy Sunday treats!!
with Love,