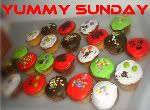 It's my first time to join this meme.
Perfectly Blended
is hosting this beautiful meme and I find it nice to play along. After all I love food!
As this is my first entry on YS, I'd like to share to you my Favorite Food. I really love Japanese Food. My favorite among them are Sushi and Sashimi. I love the fresh fishy stuff so much. Oishi!!! I love it more when I smell the wasabi and have it tasted with the soy sauce and the Kalamansi. So yummy , yummy , yummy. It's a Yummy Sunday anyway.
My mouth waters most of the mix set of sushi and sashimi. I love the tuna, the salmon and everything on it. I even love the kani and stuff. When I was on the first trimester, my pocket aches as I always tried to grab a handful set and ate a lot of them.
with Love,